What You'll Find Here:
One of the largest selections of self-piercing screws on the planet!
Concise summary of all the options from head to point.
ScrooFinder– browse or add items to quote cart using our lightning fast parametric search engine.
Our online quoting process is also easy and intuitive for your convenience. Simply add the fasteners that you are interested in, to your cart, and then check out to receive a free quote.
If you're not sure what you need, you can call or email us for friendly, professional advice.
Self-piercing screws are also known as zip, needlepoint, saber point, sprint point, speed point or twinfast screws.
They are essentially self-tapping screws with a very sharp point that can pierce through thin gauge sheetmetal. The most common self-piercing screw has a twin lead thread with the first thread rolled to the tip of an extra sharp point, and a second thread starting just above it. As the screw pierces and turns into the metal the two threads instantly engage and drive the screw through the layers of sheetmetal with great ease & speed.
Self-Piercing Screws
Point Types

Sharp Point
Type 17 Point
Head & Drive Types

Indented Hex Washer
Indented Hex Washer Slotted
Modified Truss Phil
| | | |
| --- | --- | --- |
| Pan Square | Pan Framing Phil with Serrations | Pancake Phil/Square |
| | | |
Wafer Phil/Square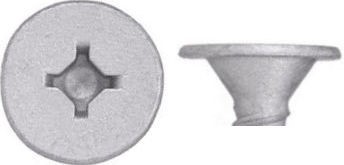 Metal & Finish Types

Carbon Steel Zinc Plated
Carbon Steel Black Phosphate
Carbon Steel Ceramic Silver 1000HR
| | | |
| --- | --- | --- |
| Carbon Steel Ceramic White 1000HR | 410 Stainless Dacromet 1000HR | 410 Stainless Passivated |
| | | |
| | | |
| --- | --- | --- |
| 410 Stainless Copper Plated | 18-8 Stainless Plain | 18-8 Stainless Copper Plated |
| | | |
| | |
| --- | --- |
| 305 Stainless Plain | Copper Plain |
| | |
Thread Types

Single Lead/Fine Thread
Twin Lead/Full Thread
| | |
| --- | --- |
| Twin Lead/Partial Thread | Twin Lead/Hi-Lo Thread |
| | |
Unit of Measure: M = 1000

Request # of screws

Enter

15,000

15

1,255

1.255

5

0.005
Page {pageNumber} of {pagesNumber}