Item # 1000H1S0812
8 X 3/4" Self-Piercing 1/4" IHWH Sl Steel Zinc Plated
Lead Time to Be Confirmed
Contact for ETA
Full Carton Quantity: 12.000 M
Minimum Order Quantity: 0.100 M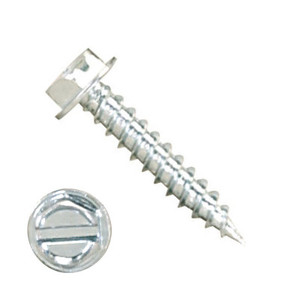 Item # 1000H1S0812
8 X 3/4" Self-Piercing 1/4" IHWH Sl Steel Zinc Plated
By using self-piercing screws in your construction or industrial assembly, you won't have to rely on pilot holes. The sharp points of these #8 diameter 3/4" long screws can ultimately save time by piercing through light gauge materials like sheet metal. Whether you use a flathead drill bit or a screwdriver, the quality and strength of these slotted screws will benefit any project.
Each screw includes an indented hex washer head bonded to the shaft for greater stability and wider distribution of weight. It's made from resilient carbon steel with zinc plating that adds a layer of corrosion resistance and an attractive metal shine. Painted industrial needlepoint screws are also available in similar dimensions, with custom colors by request.
Get your free quote today by adding the quantity you need to your cart. We'll provide you with an estimate shortly! You can also get in touch with Scrooscoop if you need assistance with ordering or selecting the right product for the job.
Specifications
| | |
| --- | --- |
| Diameter | #8 |
| Length | 3/4" |
| Head Type | Hex Washer |
| Metal Type | Carbon Steel |
| Finish Type | Zinc Plated |
| DriveType | Hex/Slotted |
| Head/Drive Detail | 1/4" IHWH Slot |
| Thread Type | Twin Lead/Full Thread |
| Point Type | Sharp Point |
| Origin | Imported |
| Sealing Washer | No |
This website uses cookies to ensure you get the best user experience. By continuing to use this site, you agree to our Web Policy.