1000H1S0708
7 X 1/2" Self-Piercing 1/4" IHWH Sl Steel Zinc Plated
1000H1S0708
7 X 1/2" Self-Piercing 1/4" IHWH Sl Steel Zinc Plated
This self-piercing screw is #7 in diameter and 1/2" long. It's designed to pierce and drive into hard and soft materials alike, such as sheet metal and wood, without the need for pilot holes. These self-piercing screws utilize a sharp point, twin leads and full threads.
This screw features a slotted, indented hex washer head. When fully driven, the head sits flush against the material and distributes the load over a wider area. The high-strength carbon steel is reinforced by zinc electroplating, giving the screw a metallic sheen. We also carry self-piercing screws in various colors to complement the material you work with.
Scrooscoop has over 8,000 quality fastener products and a team that can help you find exactly what you need. Request a free quote for a bulk order of the 1000H1S0708 today. Simply add the product to your cart, and we'll get back to you with a quote.
Product Specifications
Diameter
#7
Length
1/2"
Head Type
Hex Washer
Metal Type
Carbon Steel
Finish Type
Zinc Plated
DriveType
Hex/Slotted
Head/Drive Detail
1/4" IHWH Slot
Thread Type
Twin Lead/Full Thread
Point Type
Sharp Point
Origin
Imported
Sealing Washer
No
×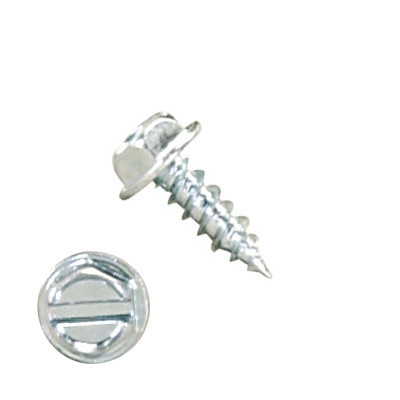 This website uses cookies to ensure you get the best user experience. By continuing to use this site, you agree to our Web Policy.