Item # 1000H1S0808
8 X 1/2" Self-Piercing 1/4" IHWH Sl Steel Zinc Plated
Lead Time to Be Confirmed
Contact for ETA
Full Carton Quantity: 15.000 M
Minimum Order Quantity: 0.100 M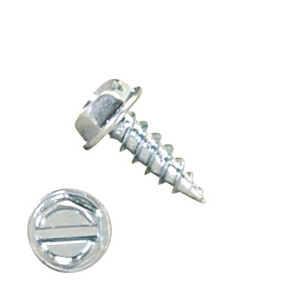 Item # 1000H1S0808
8 X 1/2" Self-Piercing 1/4" IHWH Sl Steel Zinc Plated
If creating pilot holes for fasteners is an inconvenience, self-piercing screws are a time-saving alternative. The 1000H1S0808 features a sharp end and twin leads to penetrate through sheet metal, wood and other light-gauge materials used in construction and assembly. This particular model has a #8 diameter and is 1/2" in length.
In addition to a slotted head, the indented hex washer allows the screw to rest flush against the material when fully driven and spreads the weight and load over a wider area. Made from strong carbon steel, this product also has a zinc plating to resist corrosion and add a metallic shine. Painted self-piercing screws are also available.
To begin your bulk order, add the item to your cart and request a free quote today. You can also get in touch with our experts for help finding the right metal fastener for the job.
Specifications
| | |
| --- | --- |
| Diameter | #8 |
| Length | 1/2" |
| Head Type | Hex Washer |
| Metal Type | Carbon Steel |
| Finish Type | Zinc Plated |
| DriveType | Hex/Slotted |
| Head/Drive Detail | 1/4" IHWH Slot |
| Thread Type | Twin Lead/Full Thread |
| Point Type | Sharp Point |
| Origin | Imported |
| Sealing Washer | No |
This website uses cookies to ensure you get the best user experience. By continuing to use this site, you agree to our Web Policy.