Item # 1000H1U0606
#6-18 X 3/8 Self-Piercing Screws, 1/4" IHWH Unslotted, Steel Zinc Plated
Lead Time to Be Confirmed
Contact for ETA
Minimum Order Quantity: 0.100 M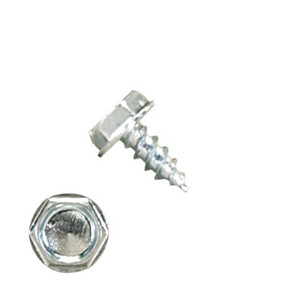 Item # 1000H1U0606
#6-18 X 3/8 Self-Piercing Screws, 1/4" IHWH Unslotted, Steel Zinc Plated
Our 1000H1U0606 self-piercing screw is 3/8" long with a #6 diameter. Self-piercing screws are suitable for puncturing through sheet metal without pilot holes, shortening the time to complete construction, frame assembly and many other applications. Its efficiency comes from the twin lead thread, one of which narrows into a sharp point.
Zinc plating strengthens the screw and helps resist corrosion. This screw model uses an unslotted, indented hex washer head that should be driven from the outside. Once the screw is set, the attached washer distributes the load throughout a wide, uniform area. You can also order carbon steel self-piercing screws in a variety of color coatings.
With over 8,000 products in our online catalog, Scrooscoop is your one-stop shop for quality metal fasteners in bulk. Get your free estimate by adding the quantity you need to your cart, and we'll send you a competitive quote.
Have a question about a product? Contact our experts today!
Specifications
| | |
| --- | --- |
| Diameter | #6 |
| Length | 3/8" |
| Head Type | Hex Washer |
| Metal Type | Carbon Steel |
| Finish Type | Zinc Plated |
| DriveType | Hex |
| Head/Drive Detail | 1/4" IHWH Unslot |
| Thread Type | Twin Lead/Full Thread |
| Point Type | Sharp Point |
| Origin | Imported |
| Sealing Washer | No |
This website uses cookies to ensure you get the best user experience. By continuing to use this site, you agree to our Web Policy.