Item # 1000H1U0808
#8-15 X 1/2 Self-Piercing Screws, 1/4" IHWH Unslotted, Steel Zinc Plated
Lead Time to Be Confirmed
Contact for ETA
Minimum Order Quantity: 0.100 M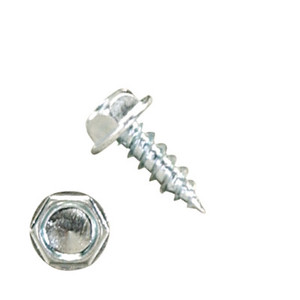 Item # 1000H1U0808
#8-15 X 1/2 Self-Piercing Screws, 1/4" IHWH Unslotted, Steel Zinc Plated
8 X 1/2" Self-Piercing Screw 1/4" IHWH Unslotted Steel Zinc Plated
These #8 self-tapping screws have a point capable of piercing thin gauge sheet metal. Self-piercing screws have unique threads that allow the screw to drive itself through sheet metal. This screw has a twin lead thread. When the screw rotates against the metal, both threads engage and pull the screw through. This design makes piercing sheet metal fast and efficient.
These screws have a quality zinc plating for light corrosion resistance. Their carbon steel core ends in a sharp point on one end. The other end features an unslotted head washer, which requires a wrench or socket to install or remove the screw.
We're a family-owned business, and we've provided fasteners to our clients for more than 45 years. If you're unsure which fasteners you need, contact the friendly team at Scrooscoop Fastener Co. for an expert recommendation.
If you already know what you need, add our 1/4-inch IHWH Unslotted Steel Zinc-Plated 8 X 1/2-inch Self-Piercing Screw to your cart. You'll receive a quote after you complete the checkout process. You can also fill out our online form for a custom quote from Scrooscoop.
Specifications
| | |
| --- | --- |
| Diameter | #8 |
| Length | 1/2" |
| Head Type | Hex Washer |
| Metal Type | Carbon Steel |
| Finish Type | Zinc Plated |
| DriveType | Hex |
| Head/Drive Detail | 1/4" IHWH Unslot |
| Thread Type | Twin Lead/Full Thread |
| Point Type | Sharp Point |
| Origin | Imported |
| Sealing Washer | No |
This website uses cookies to ensure you get the best user experience. By continuing to use this site, you agree to our Web Policy.